A bell tent village for your guests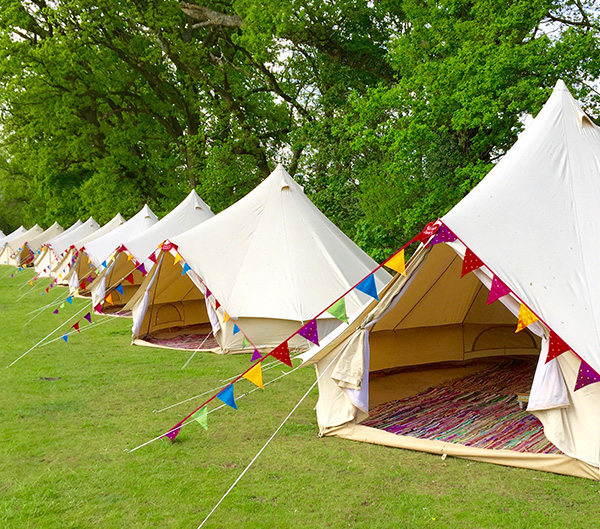 Our professional crew will create a magical glamping village for your bespoke event. The bohemian style bells come equipped with super comfy memory foam mattresses, Moroccan lanterns, Indian Bajot tables and beautiful Kantha stitch cushions. 
Hotel quality bedding, bright outdoor solar lights and high quality deckchairs can be added to make your event stand out from the crowd.
A bespoke link will be created especially for you containing all the packages you wish to offer to your guests along with prices and an online booking form. This takes all the stress away from you as we take all the bookings directly. We can even split the delivery charge between your guests tents. You can use this link in all your wedding correspondence

Our beautiful bell tents create a stunning backdrop to your event and are the ideal accommodation for your guests. No waiting around for taxis or walking to the nearest B&B, you and your guests can keep the celebration going all night. We can accommodate over 180 guests with our beautifully furnished bell tents, Emperor tent and Queen tent. You can reserve a number of tents with a deposit and then your guests can book directly with us so that you don't have the added concern of the guest accommodation. Our tents come with the following as standard:
Super comfortable 10cm honeycomb memory foam mattresses and camp beds
Colourful Fairtrade Indian rugs or geometric patterned matting
Hand painted Indian Bajot tables
Lanterns containing battery operated LED lights (inc. batteries)
Traditional Indian Kantha stitch cushions
Silk sari bunting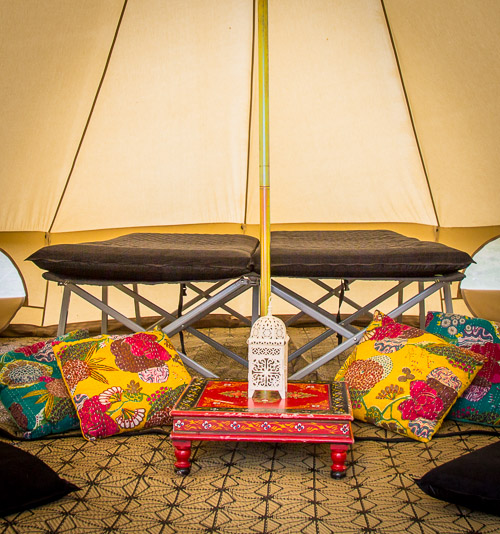 If you want to save a little and manage the individual bookings yourself, then this option is for you. All tents in this package come with up to 4 beds in every tent, rugs, tables, Moroccan Lantern with LED lights, Kantha stitched cushions and bunting, usual price £220. Optional extras can also be added.
In order to take full advantage of this saving, we would need full payment in advance which confirms your booking. This cost is non refundable. Please note that the Honeymoon Suite is not included in this package but can be hired for £350. 
Special Wedding Package Prices
10 bells with up to 4 beds in each – £1700
15 bells with up to 4 beds in each – £2550
20 bells with up to 4 beds in each – £3400
Payment would be required by an initial deposit and then the remaining balance to be paid one month prior to the event. At this point, you would notify us of the bed arrangements and names for each tent. Optional extras can be added including a Honeymoon Suite, super bright exterior solar lights, bedding and fire bowls with fuel. To discuss this option further, please contact us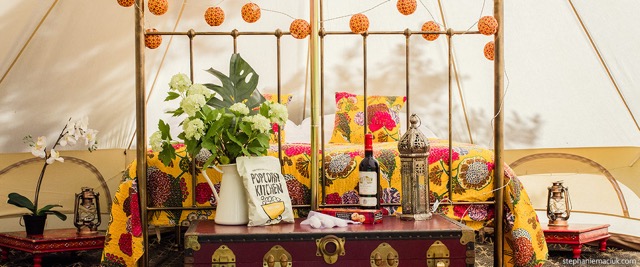 If you wanted to go 'all out' then why not upgrade your free honeymoon suite to an Emperor Tent for £100 or our Queen tent for £150.  
Our Emperor is an impressive 4m x 6m and the Queen a whopping 7m so you can space and luxury to your honeymoon tent.  If you would like to hire the Emperor separately the cost would be £450 and the Queen would be £500, please contact us for further details.We can even split the delivery charge between your guests tents. You can use this link in all your wedding correspondence

Delivery, set up and collection
The delivery charge will be in addition to the bell tent hire charge. It will be based upon the distance from our base in Sussex to your venue and the amount of tents that are hired. The charge will include fuel for 1-4 vehicles, set up, delivery and collection. This charge is usually paid for by the bride and groom but can be split among your guests. We usually come and set up the day before the event and take down the day after so that we do not disturb any proceedings. However, if this is not possible with your venue, please talk to us and we can arrange a suitable day.

"Claire, thank you so much for such an amazing place to stay. We cannot wait to come back again. Everything about the stay was perfect, we were warm and comfortable and are very taken with yurt life! We will definitely be back sometime around the end of summer- we will dare to bring the kids next time though!! thank you so much! Very kind regards, Georgie and Geoff!! X"
Tel: 07399 316222
Email: claire@loveabell.co.uk hello@loveabell.co.uk