Bell Tent hire packages and additional options
Prices are for up to 3 nights
Tents for three from £205
Group tent from £250 and Blank Canvas from £130

Please note that these are our basic tent prices and festivals and other events may charge more.

The Honeymoon Suite – from £350
Our luxurious honeymoon tent comes with a wrought iron double bed and super comfy double mattress, hotel standard bedding, bedside tables, a useful storage trunk, LED fairy lights, outside solar fairy lights and a few extra surprises for you both to enjoy.
Book 15 x Bell tents or more and the Honeymoon Suite is free of charge (Not included in the special wedding package). You can also upgrade to an Emperor Tent Honeymoon Suite for £100. Hiring the Emperor Honeymoon Suite alone would be £450.

Our stunning 6m Emperor can be used as a communal space or a beauty space. It will comfortably sleep 10 people along with our large colourful rugs, Indian Bajot tables, Moroccan lanterns and cushions. There are openings at the front and side of this tent, so it would be great for a small show or acoustic set.
Chill out zone: Large colourful rugs, Indian bajot tables, LED lighting, cushions and bunting – £300
Beauty Space: 2 x trestle tables with linen, 4 free standing mirrors, 4 chairs, colourful rugs, LED lighting and bunting – £350
Glamping: Large colourful rugs, Indian bajot tables, LED lighting, bunting and beds for up to 10 people – £300 – £540
Emperor Tent Honeymoon Suite: £450 if hired alone or £100 as an upgrade (with 15 or more bell tents hired)

Our Queen tent is a whopping 7m diameter with a footprint of 9m with guy ropes. Maximum capacity is 10 sleeping guests, but we can also set this up with tables and rugs as a communal or beauty space.
Communal space: Large, fair trade colourful rugs, seating, cushions, Indian low level Bajot tables, LED fairy lights and bunting – £350
 Sleeping space: Large, fair trade colourful rugs, low level Bajot tables, LED fairy lights and bunting – From £350 – £550
Beauty space: Large, fair trade, colourful rugs, 2 x trestle tables with linen, 2 x lights, 8 x mirrors and 8 x chairs – £400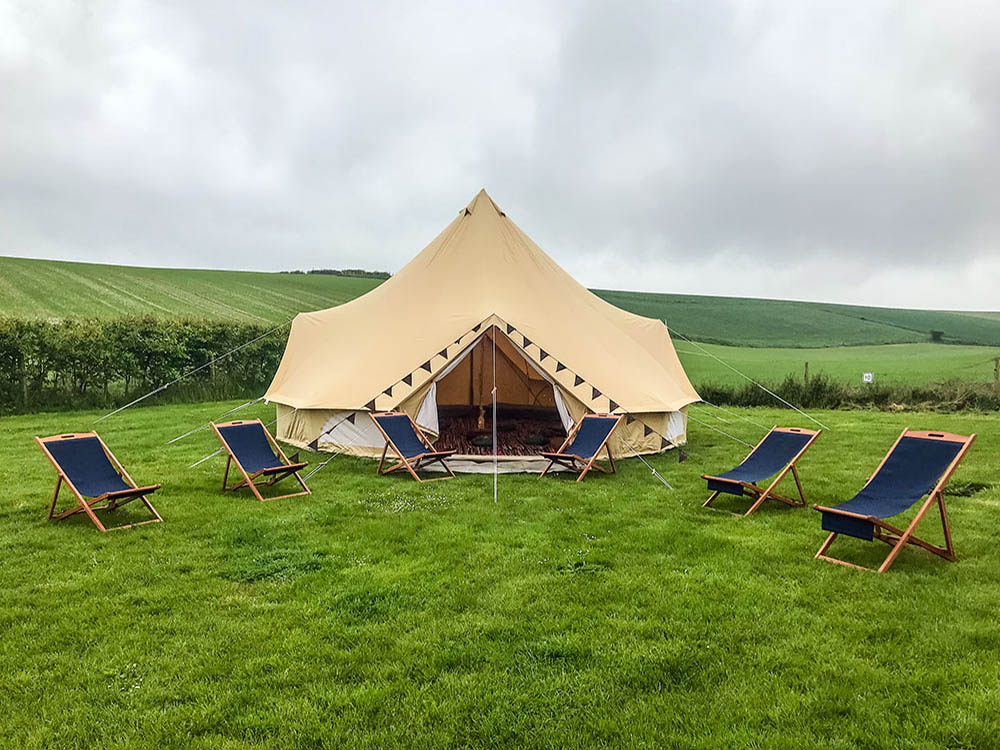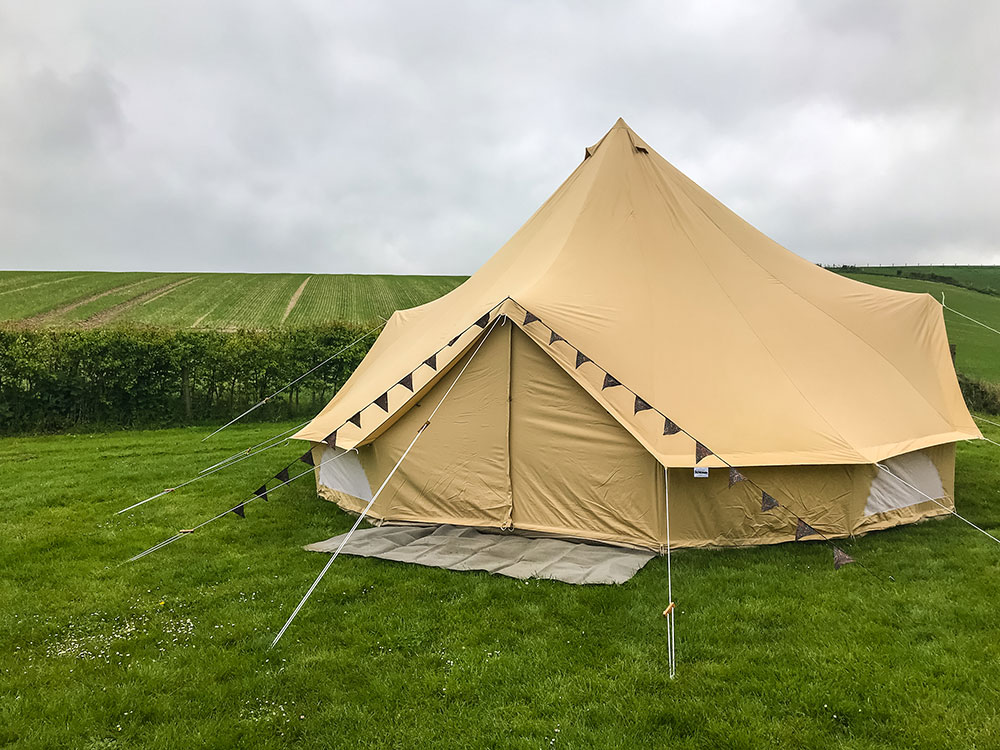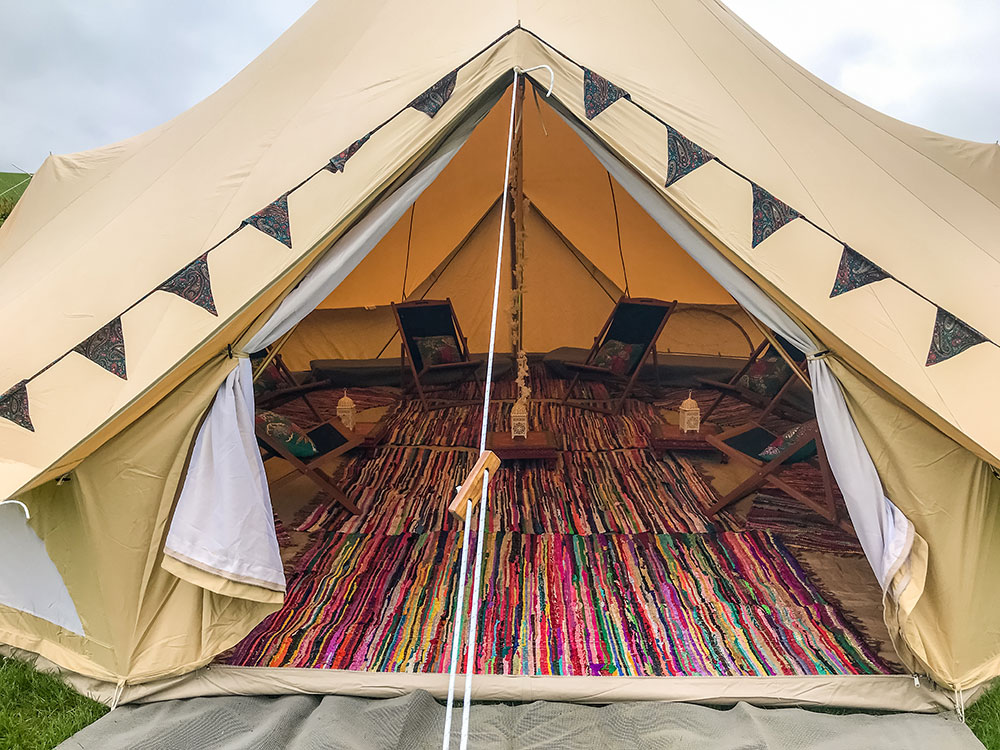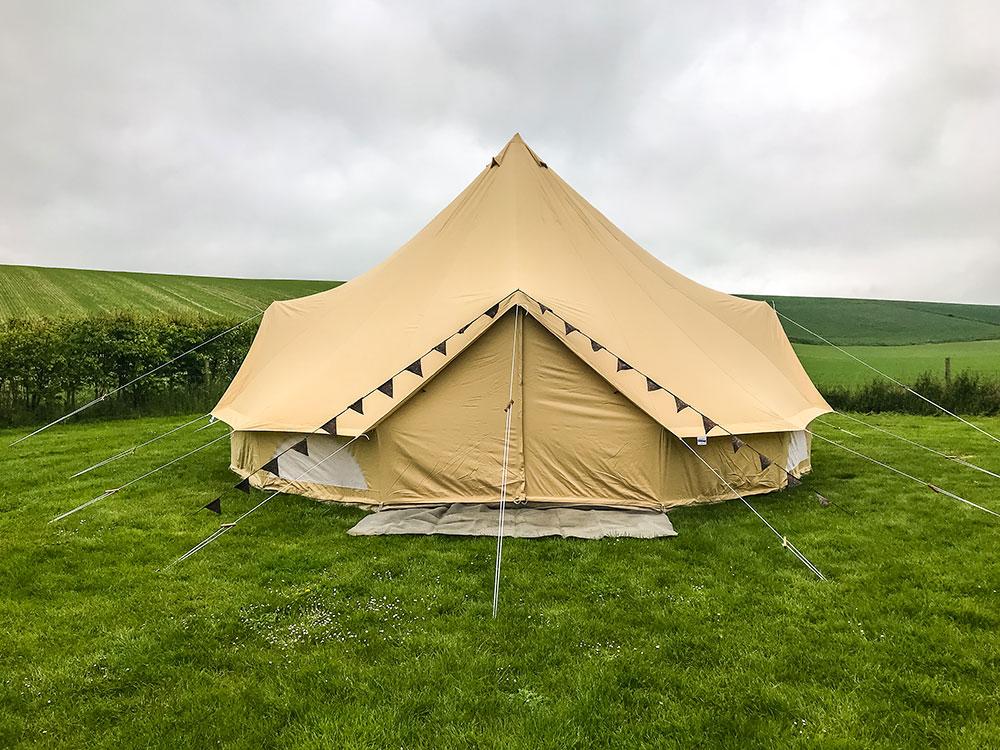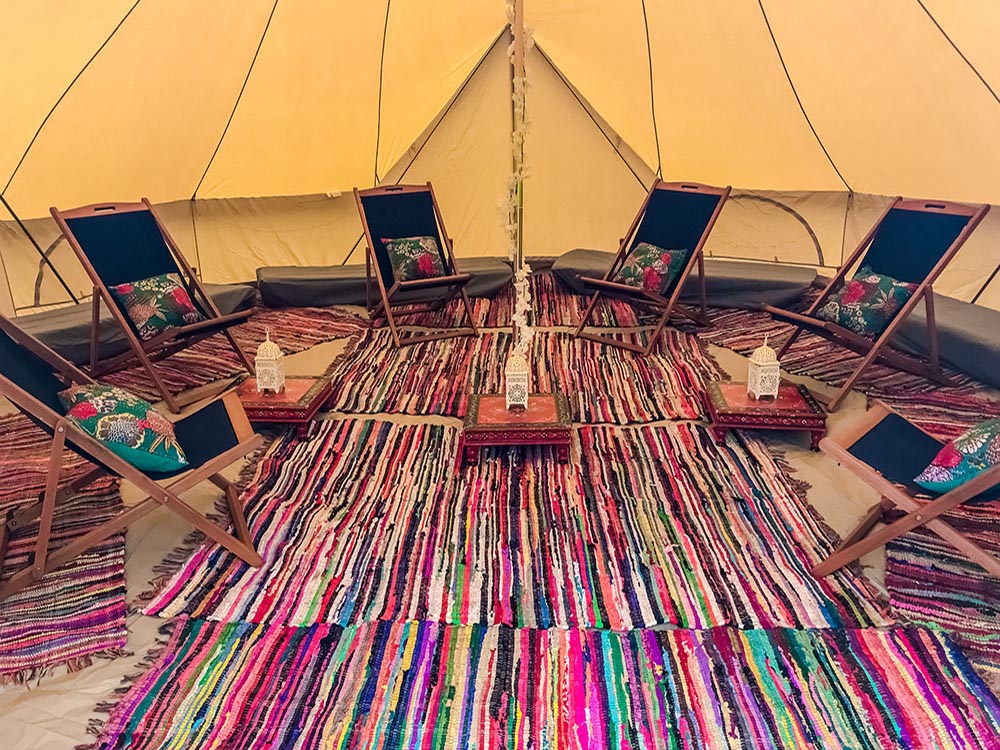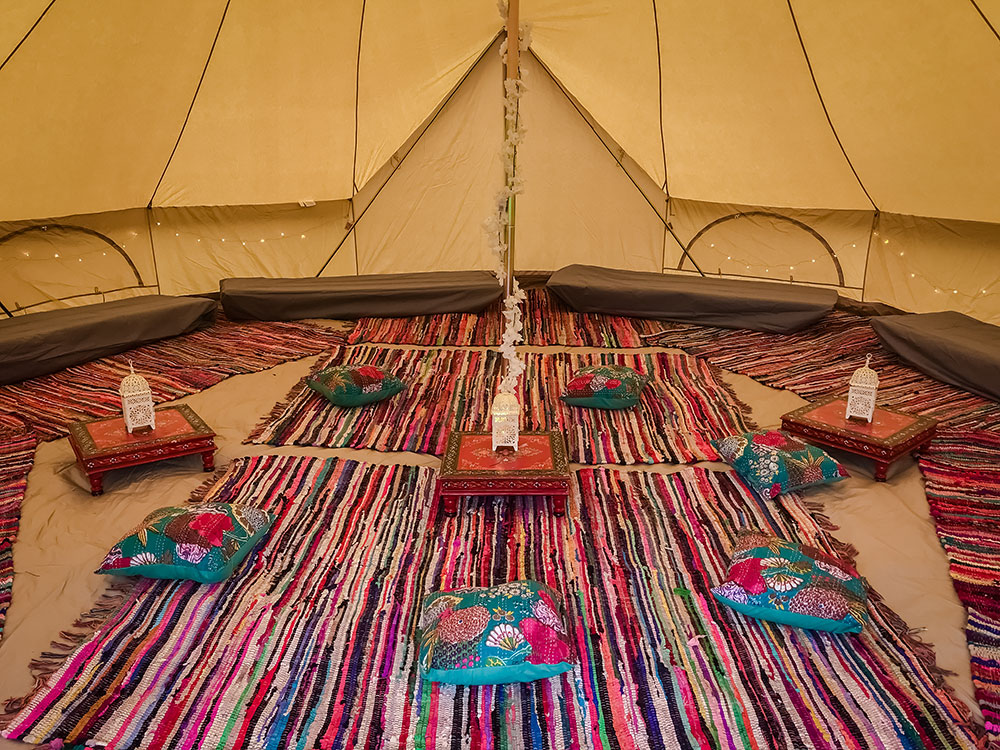 Super comfortable 10cm single memory foam mattress  – £20

Double Camp bed – £40

Deck chair – £10

Good quality sleeping bag – £20

Luxury bedding pack – £60

Awning – £40

Bright exterior LED solar fairy lights – £10

Delivery Set Up & Collection
The delivery charge will be in addition to the bell tent hire charge. It will be based upon the distance from our base in Sussex to your venue and the amount of tents that are hired. The charge will include fuel for 1-4 vehicles, set up, delivery and collection. This charge is usually paid for by the client but can be split among your guests if the amount is agreed beforehand.
We usually come and set up the day before the event and take down the day after so that we do not disturb any proceedings. However, if this is not suitable with your venue, please talk to us and we can arrange a suitable day.

There are two options for booking. You can send your guests a web link (which we will provide) and they can book directly with us, allowing you more time to concentrate on finer details for your event, or you can book all the tents yourselves as a group booking.

To reserve your tents we require a deposit of £50 per tent which will be refunded to you within 14 days of the end of the event, assuming that there is no damage, loss or excessive cleaning.  The deposit cannot go towards the cost of the delivery.
To reserve 10 tents is £500, 20 is £1000, 30 is £1500 and so on.
All prices include VAT and are subject to our terms and conditions, and availability.

At Loveabell, we realise that every event is different. Our friendly team are very flexible so if you would like something special or would like us to add something to each tent, please get in touch and we can give you a quote for any little extras.

"Claire, thank you so much for such an amazing place to stay. We cannot wait to come back again. Everything about the stay was perfect, we were warm and comfortable and are very taken with yurt life! We will definitely be back sometime around the end of summer- we will dare to bring the kids next time though!! thank you so much! Very kind regards, Georgie and Geoff!! X"
Tel:
07399 316222
Email:
claire@loveabell.co.uk
hello@loveabell.co.uk