Loveabell Weddings Hire Information

Hiring the perfect bell tents for your wedding
Loveabell prides itself on attention to detail. We are a very friendly bunch and will do everything we can in order to make your celebration one to remember. We come highly recommended and have vast experience in supplying tents for weddings – it's what we do best!
Our Tents
All our bell tents are made from 100% cotton canvas in a natural colour. They are 5m diameter and can sleep up to 6 guests in each. The ground sheet is attached with a heavy duty zip that can be undone and the sides rolled up, creating a very chilled area allowing the breeze to flow through.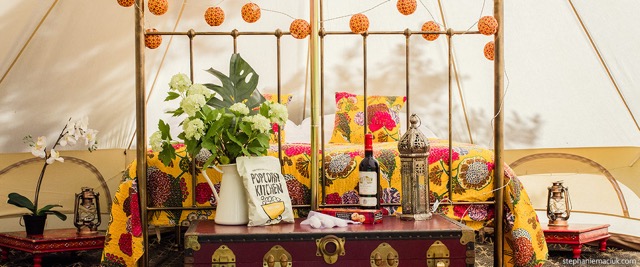 Booking Tents for your Wedding
We aim to make it as easy as possible to book tents for your wedding by creating you a bespoke online booking page, with a link to give your guests. Our friendly admin team will then deal with every booking, leaving you time to focus on other details of your special day. Please bear in mind that we need a minimum requirement for most areas.
Our furnished tents come with the following:
Super comfortable 10cm honeycomb memory foam mattresses and camp beds
Colourful Fairtrade Indian rugs or geometric patterned matting
Hand painted Indian Bajot tables
Lanterns containing battery operated LED lights (inc. batteries)
Traditional Indian Kantha stitch cushions
Silk sari bunting
Pricing (For unto 3 nights stay)
Double : 1 double bed : £190 Twin : 2 single mattresses : £190 Threesome : 3 single mattresses : £205 Foursome : 4 single mattresses : £220 Family : 1 double bed & 2 single mattresses : £220 Small Family : 1 double bed & 1 single mattress : £205 Couples : 2 double beds : £220 Group : 6 single camp beds : £250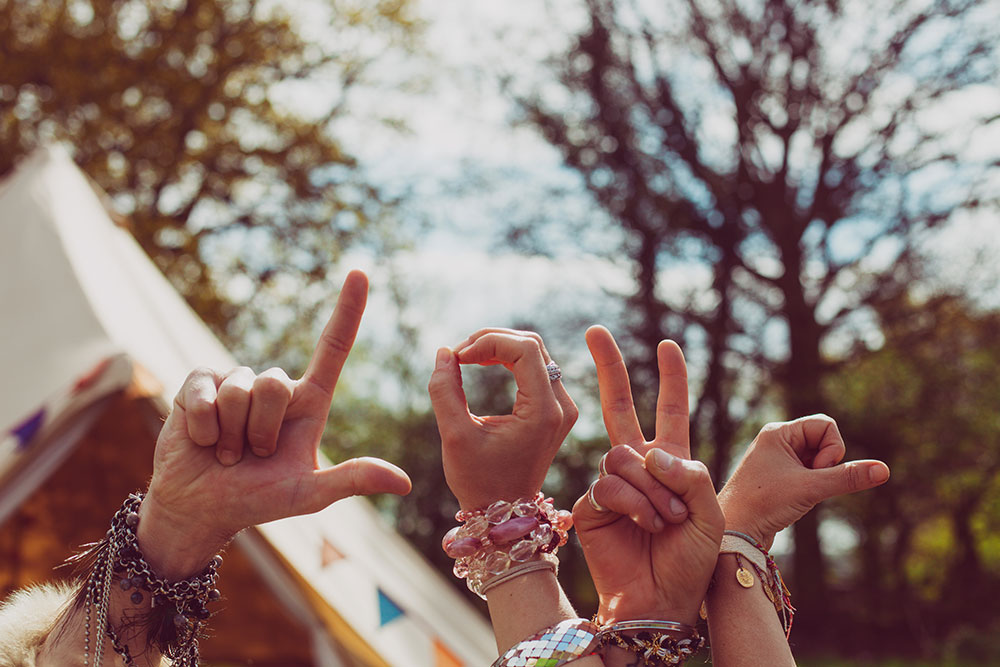 Reservation & Deposit
To reserve your tents we require a damage and security deposit of £50 per tent, which is refunded to you within 2 weeks of the event as long as there are no damages to the tents and equipment. All prices include VAT and are subject to our terms and conditions, and availability.
Free Honeymoon Suite
With bookings of 15 or more Essentials tents, we will give you our very special Honeymoon Suite for free, complete with a proper bed, luxury bedding and lots of other goodies. If you  would like to hire this separately it will be £350.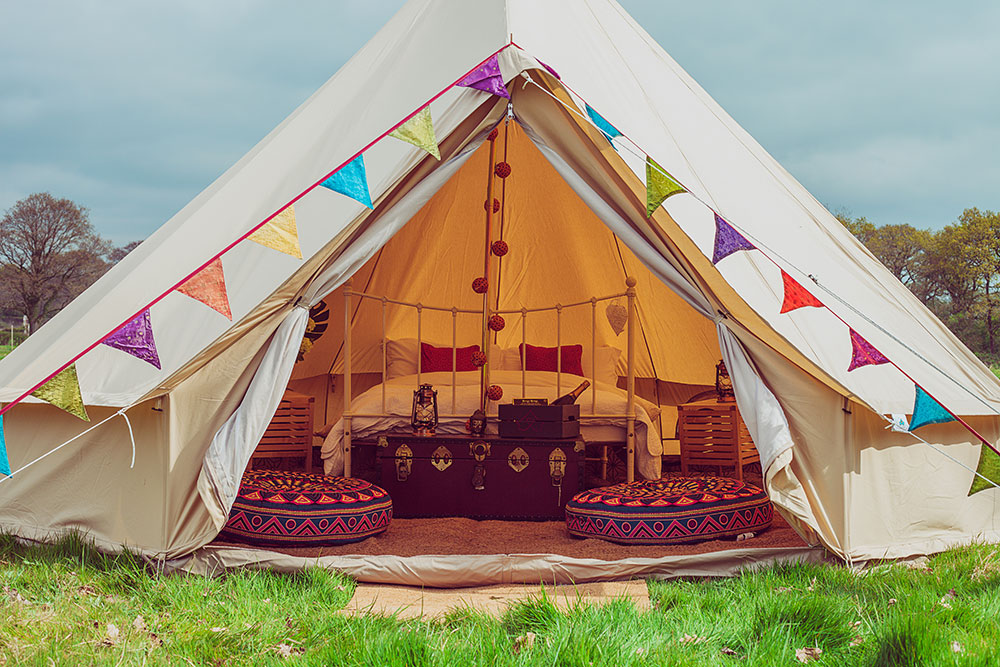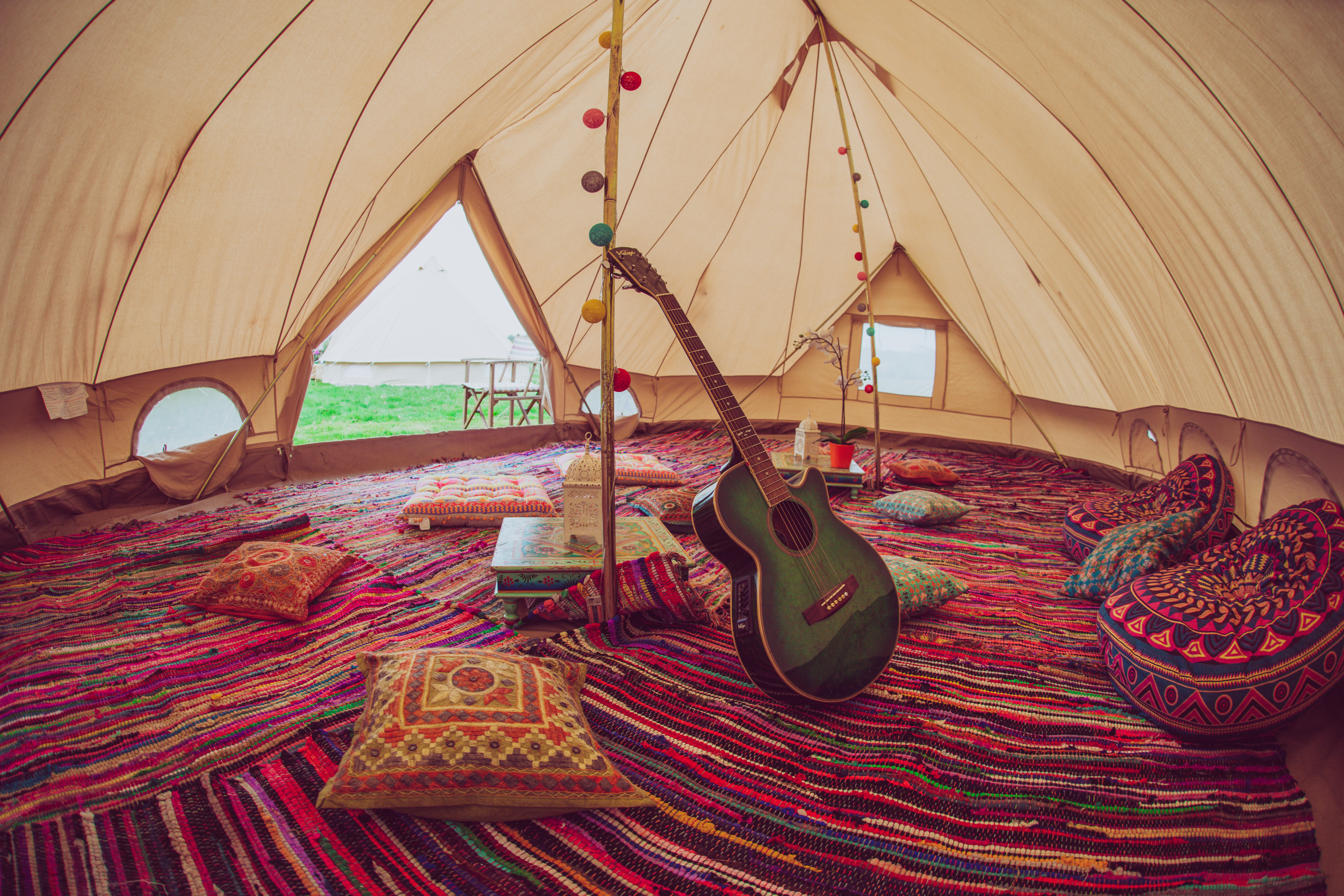 Emperor Tent upgrade
If you wanted to go 'all out' then why not upgrade your free honeymoon suite to an Emperor Tent for £100. It is like a bell tent but much bigger and even more luxurious. If you would like to hire this separately it will be £450
Queen Bell Tent
Our Queen tent is a whopping 7m diameter with a footprint of 9m with guy ropes. Maximum capacity is 10 sleeping guests, but we can also set this up with tables and rugs as a communal or beauty space.
Communal space: Large, fair trade colourful rugs, seating, cushions, Indian low level Bajot tables, LED fairy lights and bunting – £350 Sleeping space: Large, fair trade colourful rugs, low level Bajot tables, LED fairy lights and bunting – From £350 – £550 Queen Bell Bar/Performance area: A simple wooden bar, seating area, low Indian Bajot tables & floor cushions – £450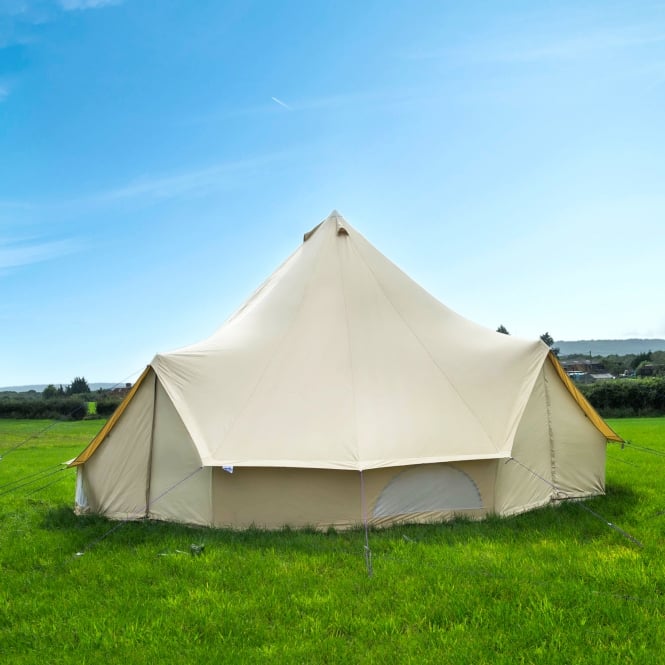 Optional Extras
Super comfortable 10cm honeycomb memory foam mattress : £20
Double camp bed with 2 x memory foam mattresses : £40
Single sleeping bags (freshly cleaned) : £20
Luxury double duvet pack with 2 pillows : £60
Super Bright outside Solar fairy lights : £10
Bell tent awning : £40
Deckchair : £10
Special Wedding Package
If you want to save a little and manage the individual bookings, then this option is for you. All tents in this package come with up to 4 beds in every tent, rugs, tables, Moroccan Lantern with LED lights, Kantha stitched cushions and bunting. Optional extras can also be added. Please note that the Honeymoon Suite is not included in this package but can be hired for £350. Delivery not included.
Special Package Prices:
10 bells with up to 4 beds in each – £1700
15 bells with up to 4 beds in each – £2550
20 bells with up to 4 beds in each – £3400
Payment would be required by an initial deposit and then the remaining balance to be paid one month prior to the event. At this point, you would notify us of the bed arrangements and names for each tent.
Optional extras
can be added including a Honeymoon Suite, super bright exterior solar lights, bedding and fire bowls with fuel. To discuss this option further, please
contact us
Delivery, Set Up & Collection
The delivery charge will be in addition to the bell tent hire charge. It will be based upon the distance from our base in Sussex to your venue and the amount of tents that are hired. The charge will include fuel for 1-4 vehicles, set up, delivery and collection. This charge is usually paid for by the bride and groom but can be split among your guests. We usually come and set up the day before the event and take down the day after so that we do not disturb any proceedings. However, if this is not possible with your venue, please talk to us and we can arrange a suitable day.