A bell tent village for your guests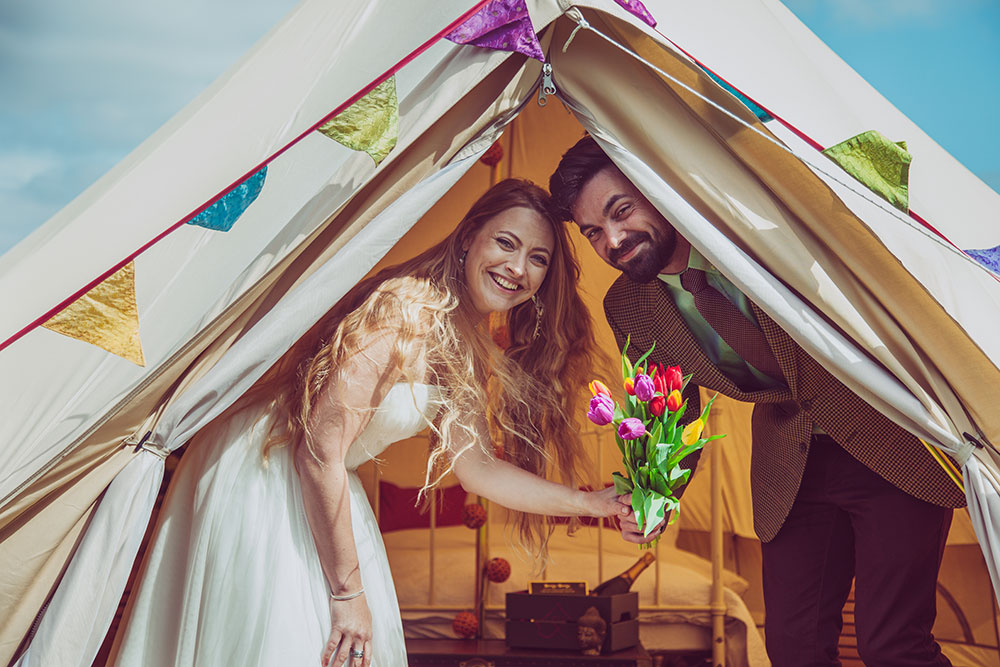 Our beautiful 5m bell tents create a stunning backdrop to your event and are the ideal accommodation for your guests. No waiting around for taxis or walking to the nearest B&B, you and your guests can keep the celebration going all night. We can accommodate over 100 guests with our beautifully furnished bell tents, Emperor tent and Queen tent. You can reserve a number of tents with a deposit and then your guests can book directly with us so that you don't have the added concern of the guest accommodation. If 15 or more tents are booked then our Honeymoon Suite is free! 
Our professional crew will create a magical glamping village for your bespoke event. 
A bespoke link will be created for you containing the packages you wish to offer to your guests along with prices and an online booking form. This takes all the stress away from you as we take all the bookings directly. We can even split the delivery charge between your guests tents. You can use this link in all your wedding correspondence.
To discuss this option further, please contact us

Honeymoon Suite 
Our Loveabell Honeymoon suite comes with a wrought iron double bed, proper mattress and bedding, storage trunk, side tables, sheepskin rugs, circular floor cushions and more!
£400 for up to 3 nights or FREE if 15 or more bell tents are booked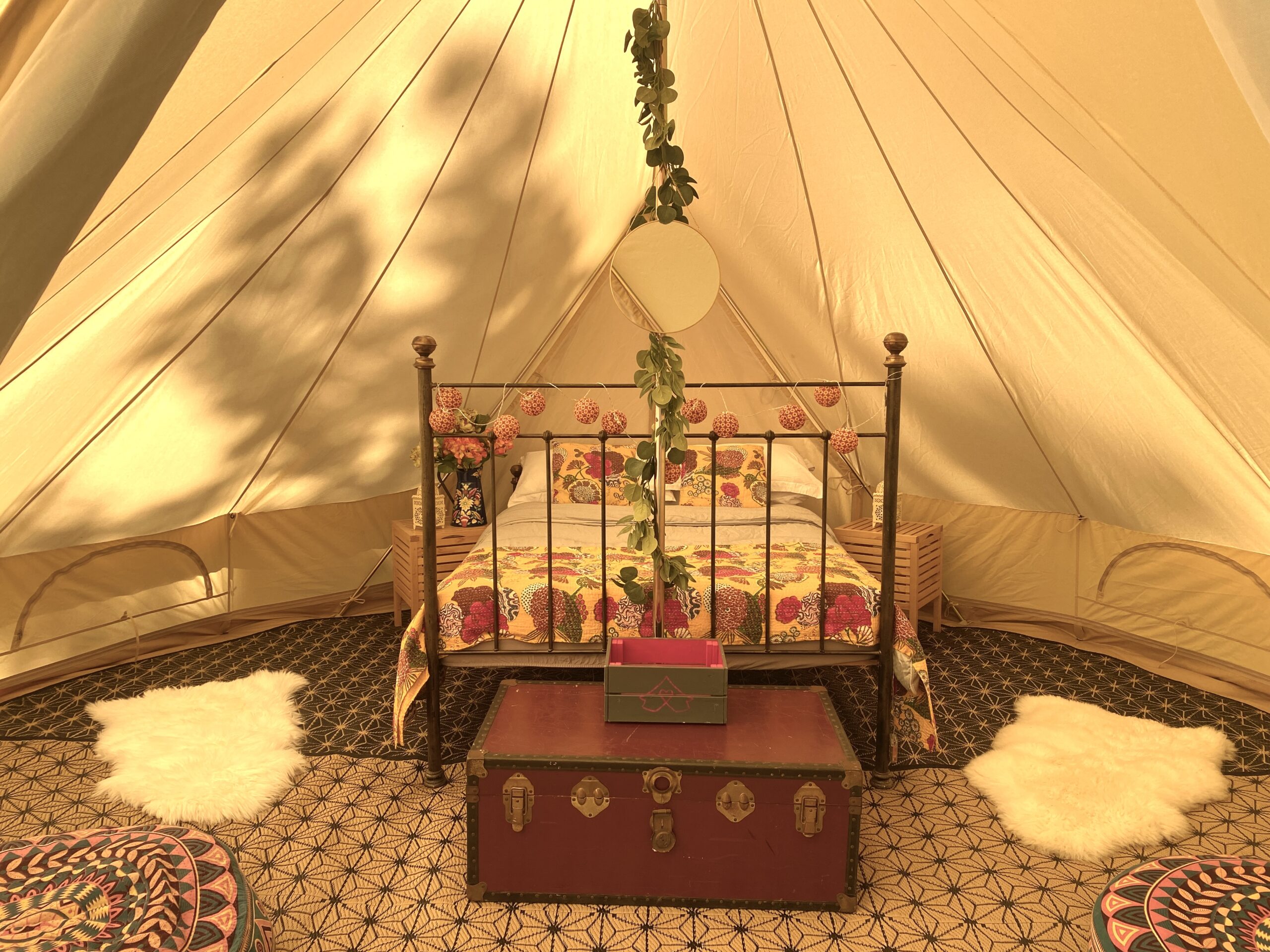 Wedding Package Price list
 You will need to reserve a minimum of 10 tents for the Wedding package prices.  
We will then create a bespoke link for your guests so that they can book and pay for their tent.  Alternatively, if you are paying for all the tents together, we can send you an invoice 28 days prior to your event.
Wedding Package – 2 options for your guests to choose
Wedding Essential Bells – These are simple 5m Bell Tents with a zipped in ground sheet, flooring, choice of single / double raised camp beds, low Indian style bajot table and bunting – from £180 for 2 guests (additional beds can be added for £20 per person)
Wedding Luxury Bells – These tents come with all of the above plus full 'Night Owl' bedding, circular floor cushion, lanterns & exterior solar lights – from £260 for 2 guests (additional beds with 'Night Owl' bedding can be added for £50 per person)
10 Wedding Essential Bells  – From £1800.00
10 Wedding Luxury Bells – From £2600.00
15 Wedding Essential Bells  – From £2700.00 
15 Wedding Luxury Bells – From £3900.00
20 Wedding Essentials Bells – From £3600.00
20 Wedding Luxury Bells – From £5200.00
Payment would be required by an initial deposit of £50.00 per tent and then the remaining balance to be paid one month prior to the event.  To discuss these options further, please contact us

If you need something a bit bigger, take a look at our Emperor, Queen and King tents. Our 6×4 Emperor can be transformed into a beauty space with tables, chairs and mirrors to ensure that you look fabulous all weekend or for group camping of 10 people, the 7m Queen tents are great mingling/chill out spaces as they have 4 doors and one central pole, they can also be used for sleeping up to 10 guests.  We have 3 of these tents.  The 8m King tent is good for a huge sleep over for up to 20 friends, or for a chill out space. 
Our larger tents provide a beautiful addition to your tent village. we can adorn the ceilings with bunting and fairy lights and make these tents magical. If you need an area for the children to hang out during the day, they will love these spaces. 
Add our super bright solar lights to your custom village for the extra WOW factor. Every tent has its own appeal, if you have any ideas for your wedding, call us to discuss and we will try and source whatever you need.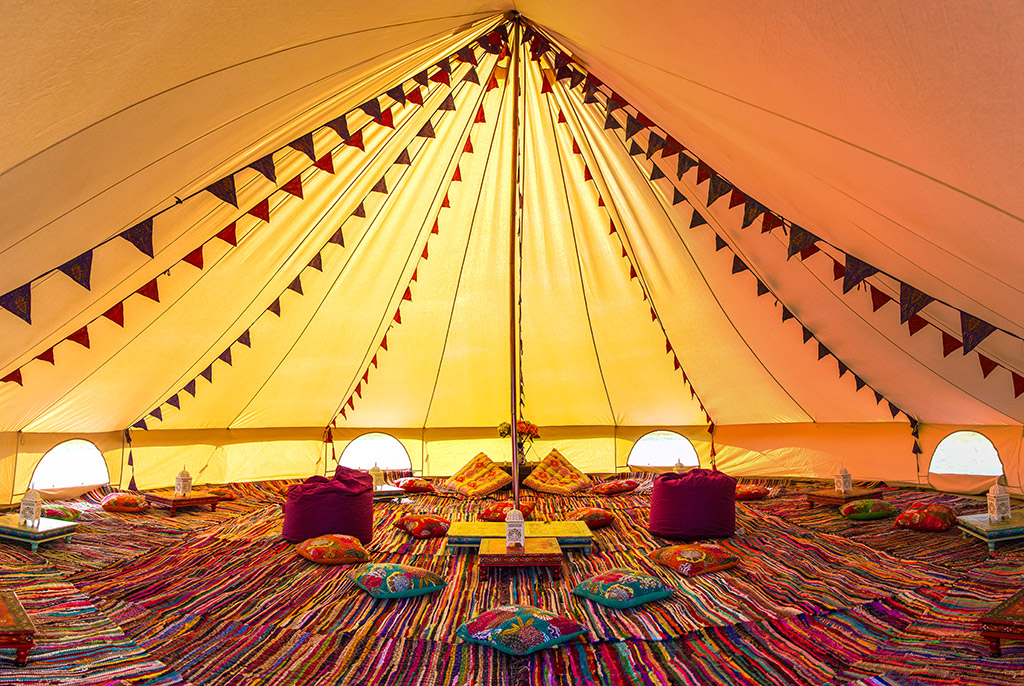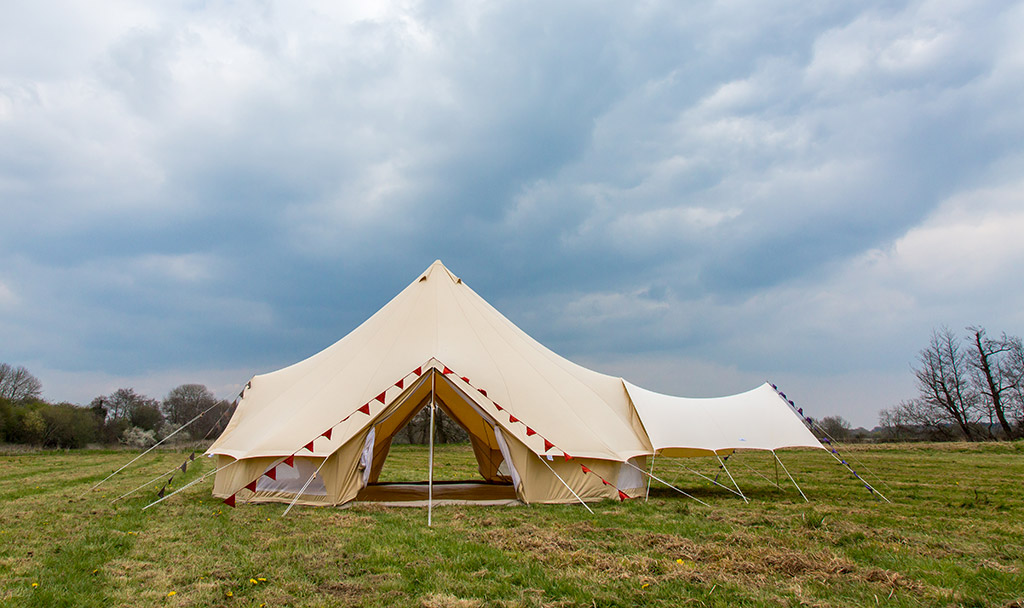 Delivery, set up and collection
The delivery charge will be in addition to the bell tent hire charge. It will be based upon the distance from our base in Sussex to your venue and the amount of tents that are hired. The charge will include fuel for 1-4 vehicles, set up, delivery and collection. This charge is usually paid for by the bride and groom but can be split among your guests. We usually come and set up the day before the event and take down the day after so that we do not disturb any proceedings. However, if this is not possible with your venue, please talk to us and we can arrange a suitable day.

"Claire, thank you so much for such an amazing place to stay. We cannot wait to come back again. Everything about the stay was perfect, we were warm and comfortable and are very taken with yurt life! We will definitely be back sometime around the end of summer- we will dare to bring the kids next time though!! thank you so much! Very kind regards, Georgie and Geoff!! X"
Tel: 07787 565871
Email: claire@loveabell.co.uk hello@loveabell.co.uk