FAQ's and A Beginner's Guide to Loveabell Camping
All you need to know about our luxury bell tents: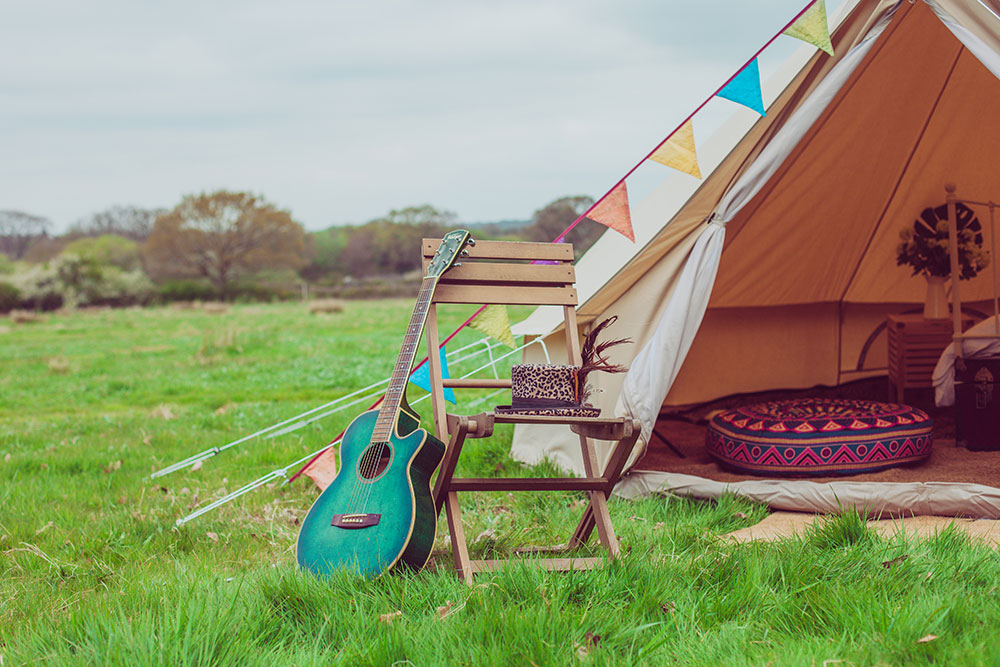 Camping for the first time can be a scary thought – especially with children! We very much want you to enjoy your experience with us, so we have created this page especially for our novice campers detailing everything you need know when camping or planning an event in one of our tents! 

Specifications:
Our tents are made with 100% natural breathable cotton canvas, this creates a lovely atmosphere within the bell tent that must be seen to be appreciated. They all come with mosquito nets attached to doors and windows so that you can have a lovely breeze without the bugs! They have a zipped in ground sheet with the ability to unzip and roll up the sides, perfect for sunny days when you can create a breeze that flows straight through.
Our fabulous crew are here to  put up your tent and take it down for you, they will also furnish your tent to your desired specifications ready for your arrival.  We have many packages on offer-and if you would like any extras that are not listed on our website, please do let us know and we will try and source it.
All of our furnished tents come with large colourful Fairtrade rugs, hand painted Indian Bajot tables, Moroccan lanterns with fairy lights and Indian bunting as standard.
5m Bells:
Our beautiful branded standard Loveabell bell tents are 5m diameter, the maximum amount of people sleeping per tent is 6, but for maximum comfort we recommend 4 as it can get a bit cramped once you and your bags are in there!
Our Emperor Bell:
As the name suggests these tents are palatial, with room for all the family or large groups. This tent is especially versatile, and can be used an adults/kids chill out space, reception area and beauty room, the possibilities are endless!
The Emperor makes the perfect upgrade to our Honeymoon Suite! 
This 6m x 4m tent is perfect for larger families and sleeps groups of up to 10 people.
Our Queen Bell:
Our majestic Queen is a quad tent with the added bonus of four doors. This space would be perfect as a chill out or a bar area with many people coming and going, multiple exits are essential! 
This 7m tent is perfect for larger families and sleeps groups of up to 10 people.
Our King Bell:
Our enormous King Tent is a sight to behold! It is the largest bell tent in the UK and creates the wow factor at any event. It would be perfect as a chill out area full of fairy lights and bunting for a perfectly magical feel. The King will sleep 10 people so camping with friends has never been easier or as glamorous!

Our Beds:
We have tried and tested every bed and mattress over the years, and we think we have found the perfect combination!
The double beds that we use are metal framed camp beds, the dimensions are: 192 x 132 x 45 cm with a metal pole down the centre see below:
We place two single self inflating 10cm thick memory foam mattresses on top for added comfort and warmth. 
For our single beds, we use the self inflating thick memory foam mattresses on the floor.
We do not use air beds as we find that they tend to deflate easily.

Little Extras can make all the difference:
We have lots of extras for hire to make your camping experience run smoothly, especially if you are new to camping and do not have any of the equipment at home.
Awnings:
Our awnings are awesome and very handy! They attach to the doorway and can fit a couple of chairs underneath. They provide shelter for sun or rain and acts as a space to keep muddy wellies outside
Bright LED outdoor lights:
These twinkly super bright LED lights bring a real wow factor to the tents in the evening and provide ample light once the sun has gone down. 
Bedding:
We hire double bedding sets which comprise of a duvet with cover, a fitted sheet, and two pillows with pillowcases. We also provide freshly laundered high quality sleeping bags for our single beds. The bedding packs are very popular but there are limited numbers so try and book them as soon as possible to avoid disappointment.
Deckchairs:
Our smart high quality deckchairs are perfect for sitting out in the evening, (Or inside in the rain)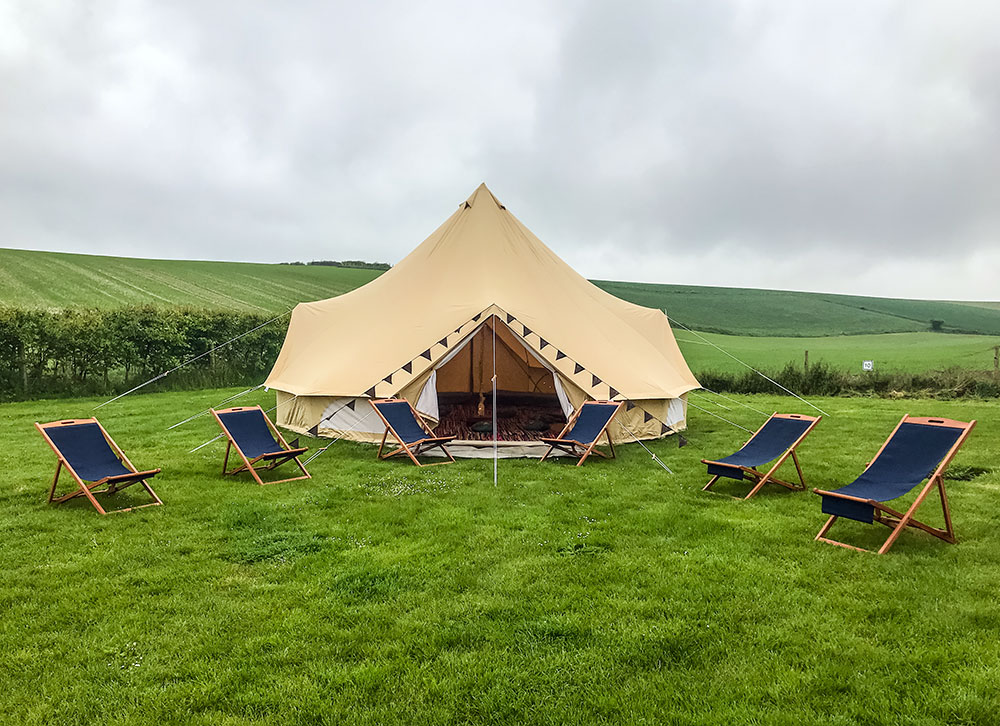 FESTIVAL CAMPERS:
If you are lucky enough to be staying in one of our Loveabell tents for the duration of your festival, please make your way to the Glamping field. We have large Loveabell flags so you shouldn't have any trouble finding us. We will usually have staff on site to show you to your tent, and also a map on the reception area. Please ensure that you make a note of your tent number. This will be emailed to you the week before your stay. Our tents are arranged in rows e.g 1-14 and this will be detailed on the map
Please be aware, unless you have booked bedding, you will need to bring this with you on the day.
We would suggest lots of blankets just in case the weather is bad so that you can layer up! You will definitely need a torch so that you can make your way around in the dark. Don't forget about those guy ropes!! Another handy tip, especially for the children staying, you might want to bring a sheepskin rug to place on top of the mattress cover. It makes the camp bed extra snuggly and warm!
We do not have any control over the facilities at a festival or wedding, so if you have any queries that we can't help with, you will need to contact the festival or organisers.

MOST IMPORTANTLY:
We hope you will enjoy your stay in our beautiful Loveabell tent. Take the time to relax, feel the grass under your feet, look at the stars, and breathe in the fresh air. Everything can wait until you get home!
The Loveabell Team x