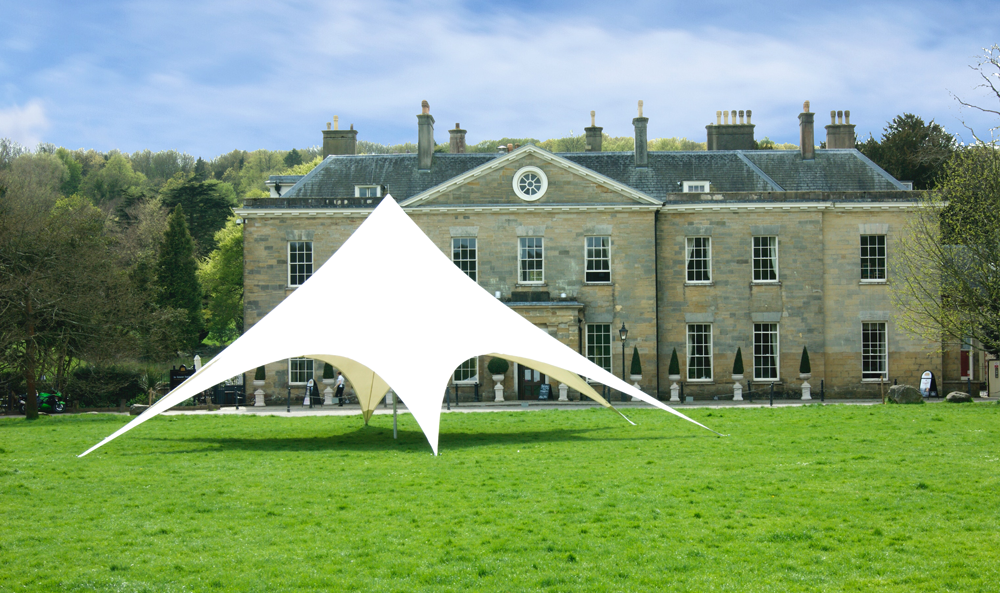 We will help to create your vision
The Star Canopy is a twist on the traditional pole tent but incorporates a strong, modern design and materials. Ideal for corporate events, intimate gigs, a bar, cafe or wedding reception.
Comfortably accommodates up to 100 people around tables or around 140 standing. The canopy is made using heavy duty PVC perfect for all typical British weather conditions, and can have the sides on, or off depending on whether you want it open to the elements or private. There are 3 clear and 3 plain side panels. The 3 plain panels have zips down the middle for ease of access.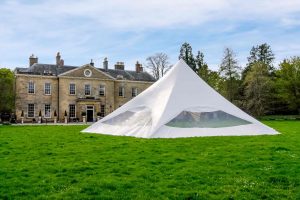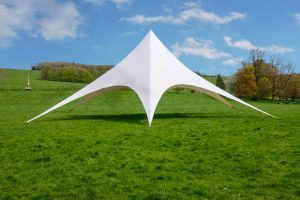 The Star Canopy takes 2hrs to erect and less to dismantle and looks perfect alongside our canvas bell tents. Loveabell also has deckchairs, fire bowls, Indian Bajot tables and many more props available to hire to compliment your event. Please contact us for a bespoke quote.

The Specifications
Size – 18.75 x 18.75 (16.76 diagonally)
Height – 6.3m
Head height in the centre of the wall – 2.1m
Wall opening – 8.41m

"Claire, thank you so much for such an amazing place to stay. We cannot wait to come back again. Everything about the stay was perfect, we were warm and comfortable and are very taken with yurt life! We will definitely be back sometime around the end of summer- we will dare to bring the kids next time though!! thank you so much! Very kind regards, Georgie and Geoff!! X"
Tel:
07399 316222
Email:
claire@loveabell.co.uk
hello@loveabell.co.uk
<iframe src="https://www.facebook.com/plugins/page.php?href=https%3A%2F%2Fwww.facebook.com%2FLoveabell%2F&tabs=timeline&width=300&height=270&small_header=false&adapt_container_width=true&hide_cover=false&show_facepile=true&appId" width="300" height="270" style="border:none;overflow:hidden" scrolling="no" frameborder="0" allowTransparency="true" allow="encrypted-media"></iframe>
<a class="twitter-timeline" data-height="270" data-theme="light" href="https://twitter.com/Loveabell_Tents?ref_src=twsrc%5Etfw">Tweets by Loveabell_Tents</a> <script async src="https://platform.twitter.com/widgets.js" charset="utf-8"></script>